Manslaughter Defense Attorneys Passaic County, NJ
Protecting Clients' Rights across Paterson, Clifton, Wayne, Little Falls, West Milford, Woodland Park and Passaic County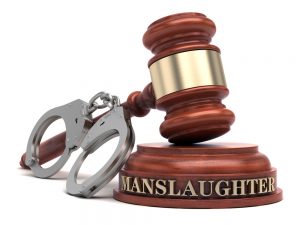 Manslaughter refers to criminal homicide which was due to the reckless or indifferent behavior of the offender. To put it simply, manslaughter charges may result from the offender causing the accidental death of another person. This differs from murder charges which can result from the intentional and malicious killing of another person.
Manslaughter charges can be either first or second degree felonies in New Jersey depending on the nature of the circumstances surrounding the incident. Aggravated manslaughter may also be charged for crimes of passion which were the result of a reasonable provocation.
At The Law Office of Del Sardo & Montanari, our criminal defense attorneys have extensive experience defending clients who have been charged with manslaughter or aggravated manslaughter in towns across New Jersey and Passaic County, including Paterson, Wayne, Clifton, Woodland Park, West Milford, and Little Falls. We believe in treating clients with the respect and compassion we would hope to receive when going through a stressful criminal case.
Call our office today to speak with one of our qualified legal professionals regarding the details of your manslaughter or aggravated manslaughter charges and how we can best serve your individual needs.
Paterson, NJ Manslaughter and Aggravated Manslaughter Lawyers: N.J.S.A. 2C:11-4
As per New Jersey Revised Statutes Section 2C:11-4, manslaughter and aggravated manslaughter are defined as follows.
First Degree aggravated manslaughter charges may result from a criminal homicide which was due to actions or circumstances of extreme indifference to the lives of others. Extreme indifference can be defined as intentionally engaging in activities which directly lead to a dangerous situation
First Degree aggravated manslaughter charges may result from a death of a third party which resulted from a situation where the offender was eluding law enforcement. In other words, if an offender was fleeing from police and a police officer was killed in a car accident as a result of the chase, that may be considered first degree manslaughter. An exception to this statute will be if the offender was a passenger in a motor vehicle at the time of the incident
Second Degree manslaughter charges may result from a criminal homicide which was a result of negligent or reckless behavior. Negligent behavior is an action which creates a dangerous situation due to the carelessness of the offender
Second Degree manslaughter charges may result from a homicide which would otherwise be considered a murder by nature, which was committed in a moment of passion and as the direct result of reasonable provocation
The differences between "extreme indifference" and "negligent or reckless behavior" can be very small and legally complex. To discuss the specifics of your case and find out where you stand legally, contact one of our Paterson criminal defense lawyers today.
Clifton, NJ Manslaughter Attorneys Discuss Penalties
Aggravated Manslaughter convictions are considered first degree criminal felonies. The associated penalties may include:
Prison sentence between 10 and 30 years
Fine up to $200,000
Mark on Permanent Record
Manslaughter convictions are considered second degree criminal felonies. The associated penalties may include:
Prison sentence between five (5) and ten (10) years
Maximum fine of $150,000
Mark on Permanent Record
All manslaughter and aggravated manslaughter convictions are considered violent crimes and are covered by the New Jersey No Early Release Act. Pursuant to this act, all offenders must serve a minimum of 85 percent of their prison sentence before becoming eligible for parole.
Manslaughter and aggravated manslaughter crimes can sometimes also be subject to civil lawsuits for wrongful death. In the case where you are being sued for wrongful death, it is possible that the civil courts will award restitution for the victim's family.
Defenses for Manslaughter: Wayne, NJ Criminal Defense Lawyers
As with many criminal cases, the exact defense our Wayne manslaughter and aggravated manslaughter defense lawyers will use is heavily dependent on the details of your case. Defenses for a voluntary manslaughter (heat of the moment) and involuntary manslaughter (death due to recklessness) can be entirely different.
Self defense is a valid defense in many manslaughter cases, as you are permitted to act in violence or even with recklessness if you are given no choice based a dangerous or life-threatening situation. This is often a defense in voluntary manslaughter cases where the defendant may be able to show that they reasonably believed they were in danger and had to act quickly to defend themselves.
Showing that an involuntary manslaughter charge was not due to recklessness or negligence and was simply a tragic accident is also a valid defense. The prosecution must show that it was due to your actions were irresponsible and unreasonably reckless in the events leading to the victim's death. Our criminal defense attorneys will aim to show that charges of manslaughter are not warranted because you were not acting in with recklessness or extreme indifference to human life.
In the case of an accidental death in the aftermath of eluding law enforcement, we may seek to show that your resisting arrest or eluding police was not an unlawful act. If this is proven, the charges of first degree aggravated manslaughter may be dropped altogether.
Contact our Woodland Park Manslaughter and Aggravated Manslaughter Attorneys Today
At The Law Office of Del Sardo & Montanari, our defense attorneys are here to protect the legal freedoms of our clients charged with manslaughter and aggravated manslaughter in New Jersey towns including Clifton, Little Falls, Paterson, Wayne, Woodland Park, West Milford, and the greater Passaic County area.
We will work with you on a personal and individual level to determine how we may be able to formulate a strong defense in the face of your criminal charges. Our experienced attorneys will work with the evidence at hand with the goal of having your manslaughter or aggravated manslaughter charges reduced or dismissed.
Contact us online or give us a call at our Woodland Park offices at (973) 233-4396 to speak with a qualified member of our legal team today in a free and confidential consultation regarding your manslaughter or other violent crime case.