Resisting Arrest Attorneys Passaic County, NJ
Protecting Clients Across Paterson, Woodland Park, Wayne, Clifton, West Milford, Little Falls, and Passaic County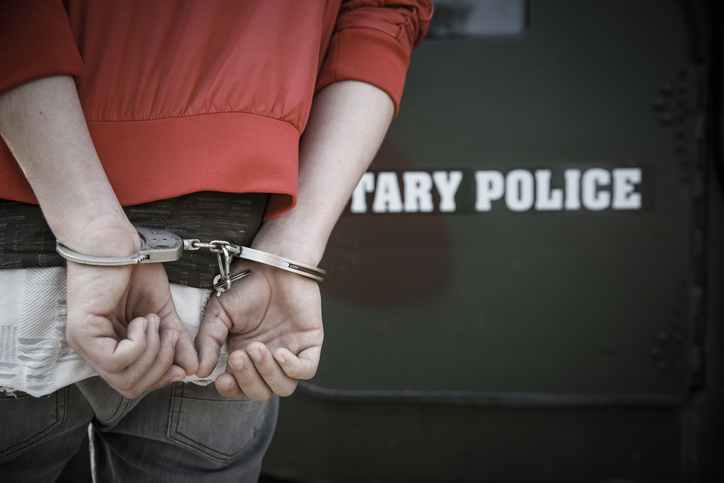 Resisting arrest charges in New Jersey can range from a disorderly persons charge to a third-degree criminal charge. Often times, resisting arrest charges are filed by law enforcement officers who feel they have been disrespected on the job. Being disrespectful and/or using foul language is not illegal. However, failure to comply with a police officer's commands when you are in the process of being arrested may constitute a valid charge. It can be intimidating to put your word against that of a law enforcement officer without adequate legal representation.
At The Montanari Law Group, we understand that being arrested is a very stressful ordeal for all parties involved. If you have been charged with resisting arrest or assault based on a claim by a police officer, it is vital that you seek legal protection as soon as possible. Our criminal defense attorneys have experience helping clients fight their resisting arrest charges across New Jersey, including Wayne, Paterson, Clifton, Woodland Park, Little Falls, West Milford, and the greater Passaic County area. We treat all our clients with the respect and compassion we would expect to receive when going through such a difficult process.
Call our office to speak with a member of our legal team today in a free and confidential consultation to discuss the details of your resisting arrest charges and how we can best serve your needs.
Resisting Arrest N.J.S.A. 2C:29-2 Paterson, NJ Resisting Arrest Lawyers
Pursuant to New Jersey Revised Statutes Section 2C:29-2, an offender may be guilty of resisting arrest if they do one of the following:
Uses physical force or threatens to use physical force against the arresting officer or another person
Creates a situation which puts the arresting officer or another person at substantial risk of physical injury
Flees or attempts to elude law enforcement by motor vehicle, boat, or other watercraft after being signaled by police or the law enforcement officer to stop the vehicle or vessel
In the case where the offender fled or attempted to elude arrest, it is presumed that this action created a dangerous situation which put the officer at risk of death or serious bodily harm. This may lead to further charges pursuant to New Jersey motor vehicles and traffic statutes.
Our Paterson defense attorneys are often asked about the actions and potential misconduct of the arresting officer. The law states, "It is not a defense to a prosecution under this subsection that the law enforcement officer was acting unlawfully in making the arrest, provided he was acting under color of his official authority and provided the law enforcement officer announces his intention to arrest prior to the resistance." This essentially means that even if the arrest was made improperly, individuals still have to comply with the arrest and the officer's instruction, and failure to do so will still be considered "resisting arrest".
Clifton, NJ Eluding Arrest Attorneys Discuss Penalties
Convictions for resisting arrest or eluding police in New Jersey can lead to serious punitive actions. The key to determining the sentence is in the degree to which offenders are found guilty. Depending on the degree of the crime, here are the penalties for resisting arrest in New Jersey.
Third Degree Felony Resisting Arrest convictions may result in:
Three (3) to five (5) year prison sentence
Fine up to $15,000
Mark on permanent record
Fourth Degree Felony Resisting Arrest convictions may result in:
A maximum of 18 month prison sentence
Fine up to $10,000
Mark on permanent record
Disorderly Persons Resisting Arrest convictions may result in:
Up to six (6) months in county jail
Mark on permanent record
As mentioned earlier, eluding police can also involve additional charges regarding endangering law enforcement with a motor vehicle or watercraft. These charges can lead to penalties including suspended driver's license or boating license for a time period between six (6) months and two (2) years.
Wayne, NJ Violence Against Law Enforcement Lawyers Build a Defense
The manner in which our Wayne resisting arrest defense attorneys can defend you is entirely dependent on the nature of the case. We will work with you and on your behalf to obtain police reports, speak to witnesses, gather video or photographic evidence, and produce a written record of your memories as soon as possible. Jotting down your side of the story immediately after the incident is a great way to show that your recollections are accurate and carry weight.
Based on the state's definition of resisting arrest, there are several strong defenses against charges. If the arresting officer failed to properly and legally identify themselves as law enforcement, you have may have a strong argument. This is often the case when an arresting officer is not in uniform and fails to produce a badge, but can take many forms.
If you were the victim of excessive force, you are legally entitled to defend yourself. This defense can get messy without either video evidence or witness testimony as the arresting officer may claim that you were the first party to act in violence and that his or her actions were in response.
Another common defense is insufficient evidence that you resisted arrest. The prosecution must show that you resisted arrest beyond the claims of a police officer. If they are unable to clearly prove that you were in violation of the New Jersey statutes, the case may be dismissed.
Contact our Little Falls, NJ Resisting Arrest Attorneys Today
At The Montanari Law Group, we have extensive experience defending clients who have been charged with resisting arrest in New Jersey, including towns like Wayne, Paterson, Woodland Park, Little Falls, Clifton, West Milford, and the greater Passaic County area.
Lean on our experience and intimate knowledge of the municipal court system to seek to reduce or even dismiss your criminal charges. Contact us online or call our Little Falls offices today at (973) 233-4396 to speak with one of our criminal defense attorneys regarding your resisting arrest or eluding law enforcement charges in a free and confidential consultation.