Postnuptial Agreement Lawyers in Passaic County, NJ
How Mid-Marriage Contracts Can Protect You and Your Assets if You Divorce in New Jersey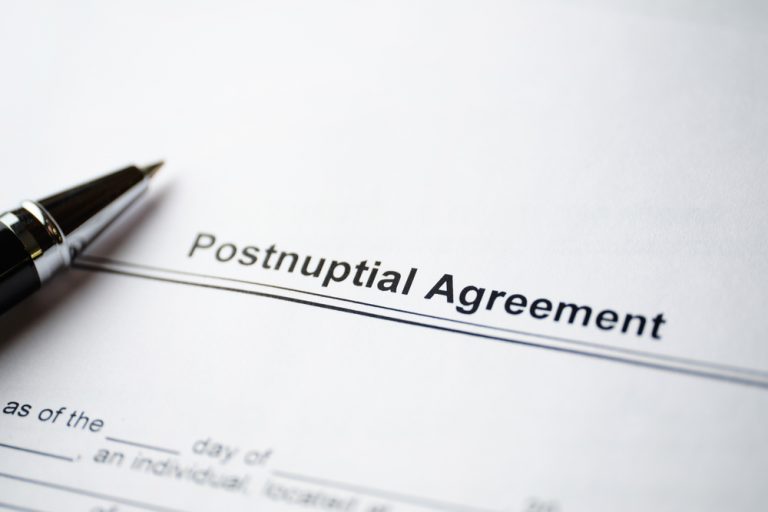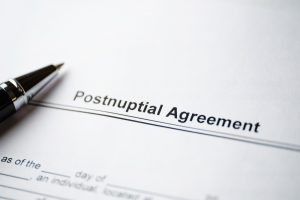 Though less common than a prenuptial contract, post-nuptial, mid-nuptial or mid-marriage agreements are useful legal mechanisms for spouses after marrying, who have had a financial change in circumstances, and wish to protect assets such as an inheritance, repay a parental gift, reassign business ownership, ensure a stay-at-home partner is financially provided for through alimony or spousal support, or in some cases, create the legal framework like a reconciliation agreement to save a marriage. Because it can also be customized to a couple's unique situation, many older couples use it as a means to revise a decades-old prenuptial agreement which was drafted when their financial circumstances or standard of living was quite different than it is today.
Talking about money can be uncomfortable and challenging. A survey by the American Academy of Matrimonial Lawyers has attributed the gaining popularity of post-nuptial agreements to more couples contemplating the significant impact of a divorce on their economic future.
If you have any questions or concerns surrounding your divorce, civil union dissolution, or any other family law matter including child custody, child support, equitable distribution of assets, or alimony, contact our office today at 973-233-4396 for a free and confidential consultation.
At The Montanari Law Group, LLC, we are committed to providing unwavering support and unparalleled representation to our clients who are currently dealing with challenging family law matters. Our highly knowledgeable marriage agreement attorneys have assisted numerous clients in Wayne, Clifton, Montclair, Bergenfield, Paramus, and throughout Passaic, Bergen, and Essex counties in drafting and executing enforceable marital agreements that best serve their interests.
For a free confidential initial consultation with one of our New Jersey divorce and family law attorneys today, contact us online or call our offices in Little Falls, New Jersey at 973-233-4396.
Post-Nuptial Agreements Offer Peace of Mind & Possibly End Disputes Over Assets & Finances
Couples get postnuptial contracts for the same reason as prenups but may be too intimidated during the engagement phase of the relationship to bring it up with their fiancé. For married couples who possibly regretted not having one signed, a postnuptial agreement is an amazing opportunity to openly communicate about the current and future financial status of their marriage.
Financial disclosure documents or the New Jersey Family Part Case Information Statement (CIS) is required by divorce courts, to provide a complete economic picture of marital income, expenses, assets, and debts. Having a post-nuptial or mid-nuptial agreement can make a divorce less costly and less time-consuming and the assets easier to distribute, since much of the work around the valuation of each asset has already been done. Thus making post-nuptial agreements an invaluable resource for couples with significant wealth and assets or in high-net-worth divorces. Women who may generate more wealth over the life of the marriage, and who as family breadwinners, are increasingly having to pay spousal support to their ex-husbands, might find that drafting a postnuptial agreement a more sensible way to protect their assets.
These mid-marriage agreements can also address the issue of debts, equitable division of personal and marital assets, alimony, and "what-if" scenarios of the death of one spouse, separation, or divorce.
However, matters related to child support or child custody cannot be drafted into a mid-marriage agreement. So if one is remarrying for a second time or has children as a result of a previous relationship, it would be wise to consult a family law and postnuptial agreement attorney who can help you ensure that some of your assets go to your children and provide for their financial security.
In general, a mid-marriage agreement can help create more peace and security in a marriage, by giving each spouse some peace of mind regarding marital finances and can help achieve a broad range of will, trust and estate planning goals.
Are Oral Post-Nuptial Agreements Enforceable in New Jersey?
There is no such thing as an oral post-nuptial agreement.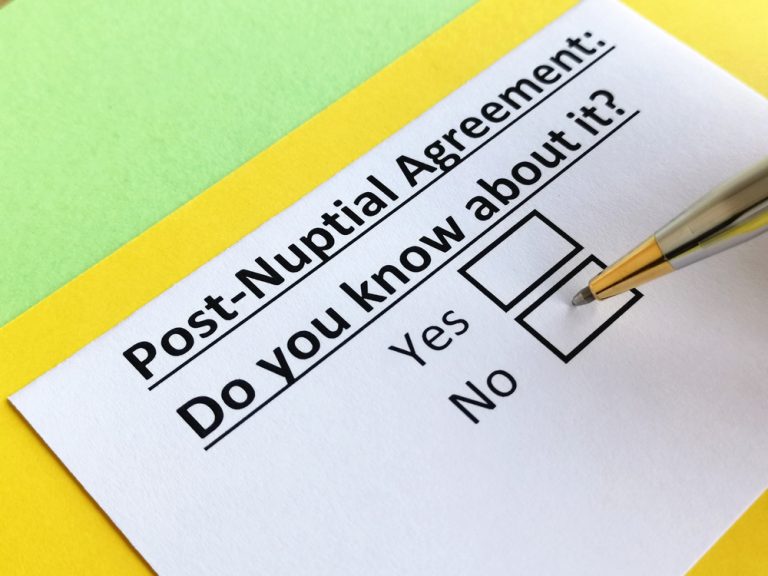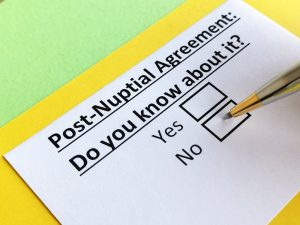 A post-nuptial agreement is a legal contract regarding the relationship between two spouses that contains legal obligations for each in the event that they divorce. Both parties must have separate attorneys to represent their interests. The agreement must be signed, in writing, and executed by a notary. Although a family court judge may frown upon them and view such financial-based agreements made prior to divorce as not in the spirit of marital trust in a fiduciary relationship, the contract would be presumed to be valid unless one of the parties could show evidence of:
fraud – hiding assets or underreporting assets,
duress – one party was forced or coerced into signing, and
one-sidedness or being grossly unfair by favoring one party over the other.
Do you or someone you know need a marital agreement or have questions about the enforceability of a prenuptial or postnuptial agreement you signed? Contact a New Jersey family law attorney at The Montanari Law Group, LLC who can meet with you, address your concerns, and discuss how our legal team can assist with securing your desired outcome.
CONTACT NJ POST-NUPTIAL AGREEMENT ATTORNEYS FOR ANSWERS
If you are considering a postnuptial agreement, it is important to understand your rights and options. Contact The Montanari Law Group, LLC in Passaic County at 973-233-4396 to speak with an experienced NJ family lawyer. We serve in towns including Passaic County and surrounding areas, including Glen Ridge, Hackensack, Clifton, Little Falls, Wayne, Verona, Montclair, and all of Northern New Jersey.
One of our attorneys will be happy to answer all of your questions and provide you with a confidential cost-free consultation.