What To Do After Being Falsely Accused in a Divorce Case
Learn About the Damaging Effects of False Accusations and How to Handle Them in Your Divorce in Passaic County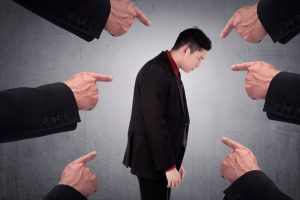 Divorce and custody cases in New Jersey provide a number of opportunities for stress and emotions to take over. Even once amiable couples can become bitter and grievous when assets and time with children are at stake. Conflict during divorce and custody cases can lead to other family law-associated issues, particularly when one spouse or parent falsely accuses the other of an abusive or illegal act. If you have been falsely accused by your spouse in a divorce or custody battle, it is necessary that you immediately seek the legal support of a family law attorney to defend against your accuser, as silence could imply viability of the accusation in the eyes of the court. Contact our divorce and custody attorneys at The Montanari Law Group today for a confidential consultation regarding the proceedings and accusations. Read on to learn more about why false accusations can be so damaging and what could happen as a result.
Family Law Issues That Often Involve False Accusations in NJ
False accusations are most likely to rear their ugly heads in the case of divorce and child custody proceedings. Because asset division, spousal support, and the long-term custody of children are all on the table, some people commit desperate attempts at getting the upper hand by discrediting the other. They may also be bitter about the separation and accuse their ex not only because they want the upper hand, but because they want to hurt the other person. In the case of divorce conflicts, false accusations tend to revolve around adultery or hiding assets. When it comes to fighting for children in a custody case, domestic violence and child abuse claims are more likely to be falsely thrown around. These are very serious accusations that must be defended immediately with the support of a reputable family lawyer.
Don't Let Emotions Take Over if You Have Been Wrongly Accused in Your Divorce
When a parent or spouse is wrongly accused of a heinous and illegal activity, they can find it difficult to remain calm and not lash out at their ex. In addition to the attack on your honor that a serious false accusation threatens, such an act reflects the end of respect and any sanctity of your relationship with your ex. Despite the fact that you may want to turn the tables on them, it is essential that you do not take it upon yourself to defend yourself. Instead, contact a family law attorney immediately. Keep a cool head and document interactions with the accuser (legally). Without confronting your ex, work with your attorney to begin developing a strong defense, as the burden of proof lies with the accuser to prove your guilt.
Possible Repercussions of False Accusations
Child custody Proceedings
If your child's other parent accuses you of domestic violence, child abuse, or substance abuse in an attempt to impact the outcome of a custody proceeding, it can seriously backfire on them. If and when your attorney helps you prove that the accusations are false, the accuser's mental health can be questioned and their custodial rights threatened as such. After all, the New Jersey Superior Court: Family Part focuses on the best interests of the child as their number one pillar. False accusations of abuse could be considered parent alienation or a sign that they are unfit to parent.
Domestic violence
If you have been accused of domestic violence during a custody case and your ex files a temporary restraining order (TRO), the TRO goes into effect at once and there is nothing you can immediately do to defend yourself. However, while respecting the orders of the TRO, you and your attorney can begin building your defense so that when the final restraining order (FRO) hearing takes place within 10 days, you're ready to refute the claims as false. As above, a false accusation will affect the accuser's outcomes in a custody case.
Defenses Against False Accusations in the Realm of Family Law

You are innocent until proven guilty, and an accuser bears the burden of backing up their claims with evidence. The first step to defending yourself against false accusations is to refute the claim. For this, you will want a family law attorney because false accusations laid out in court need to be responded to similarly in an affidavit. Remaining silent on the issue will do you no favors, as silence often means agreement with the accusation or passive admission of guilt. With the guidance of your attorney, gather evidence and other related documentation to confirm your innocence.
Contact Our Little Falls Office for Assistance With False Accusations During Divorce Proceedings
While false accusations may seem simply frustrating at first, they can have immense legal implications. A family law attorney is a necessary ally when dealing with false accusations in a divorce or child custody proceeding. Not only can such degrading claims cause harm to your case, but the proof of their erroneous nature can have serious consequences for your ex that also impact your own outcomes. Our team at The Montanari Law Group is experienced in handling these serious matters for clients in West Milford, Wayne, Ringwood, Haledon, Kearny, Haledon, Essex Fells, and other Passaic County and Northern New Jersey areas, and we are ready to fight for your rights to a fair family law hearing and a clear bill of character and actions. Contact us today at (973) 233-4396 for a free consultation if you have been falsely accused.