Temporary Alimony; Financial Support During Divorce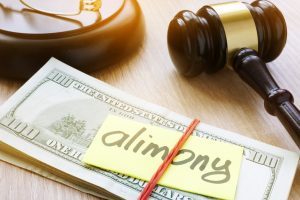 One critical component of many divorce settlement agreements is that of alimony, also known as spousal support. Designed to help parties who relied on financial support during a marriage to continue to meet financial obligations after their divorce, and in many cases to pursue job-training and further education, alimony can often be one of the most contested aspects of a divorce due to the relatively open-ended nature of NJ alimony law.
However, what happens when this same financially dependent party is in need of financial support during the divorce process itself, before an alimony agreement can be reached?
This is where the idea of "temporary alimony", legally referred to as "pendente lite support", comes into play.
How Can I Secure Financial Support During my Divorce in Passaic County?
When it comes to securing financial support during a divorce, there are two possible ways to go about securing temporary financial support before a spousal support agreement can be reached.
The first way is to have the divorcing parties reach an agreement of some kind on their own, or through negotiations between the parties and their divorce attorneys. If a temporary financial support agreement can be reached in this way, the parties can put the terms into writing, and submit it to the courts in the form of a "Consent Order". Upon review and approval by a judge, this consent order will be made into a legal and binding agreement until the divorce is resolved, and an alimony agreement can be reached.
The second way to secure temporary alimony during divorce is to file a motion with the courts requesting "pendente lite" support. This method is generally pursued when the parties cannot come to terms on their own, and one party or the other feels that court intervention is necessary.
Clifton Temporary Alimony Attorneys Help Calculate Pendente Lite Support During Divorce
So whether temporary alimony during your divorce is being decided through negotiations and a consent order, or through a court motion requesting financial support, your temporary alimony agreement will be calculated in much the same way that all New Jersey and Passaic County alimony agreements are calculated.
For a complete list of the factors which are taken into consideration when awarding alimony, you can view our alimony and spousal support page.
It is important to remember however that there are not very strict guidelines for determining alimony and by extension temporary alimony. Rather, your alimony agreement or temporary alimony agreement will often depend greatly upon the negotiations and arguments your Clifton alimony attorney is able to make on your behalf, making it that much more important to retain experienced legal counsel during your Passaic County divorce.
Contact Our Woodland Park Spousal Support and Divorce Lawyers Today
At The Montanari Law Group, our family law attorneys have extensive experience helping our clients to effectively and favorably resolve all manner of divorce and family law issues in towns across New Jersey and Passaic County, including Clifton, Wayne, Little Falls, West Milford, and Woodland Park.
Whether you are in need of financial support during the divorce process itself or need to protect your own financial security in the face of a temporary alimony request, our firm is ready to provide you with the knowledgeable, effective, and attentive legal counsel that you need and deserve during such critical legal and financial decisions.
To speak with our legal team today in a free and confidential consultation regarding your divorce or any of its related issues of child custody, child support, spousal support, and marital asset division, or any kind of temporary alimony issue you may be facing during your divorce itself, please contact us online, or through our Little Falls office, NJ at (973) 233-4396.