Financially Preparing for your Divorce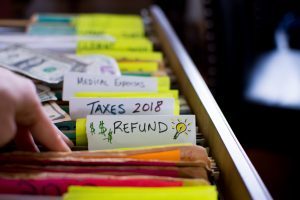 Making the ultimate decision to pursue a Passaic County divorce is never easy. As difficult as this decision may be, that's only the first step, there are many more decisions that need to be made. While your Clifton divorce attorney can definitely help you with some of these difficult decisions, one thing you can do yourself to relieve a large amount of stress throughout the divorce process is to prepare yourself financially.
By having a good understanding of your last several years' finances, you can help your lawyer secure you the most accurate and favorable possible property division agreement, begin making a budget for your expenses after your divorce, and start improving your personal credit to help you make purchases after your divorce. Below are a few steps to follow to prepare yourself financially for your Passaic County divorce.
Organize Financial Documents for your Woodland Park Divorce Attorney
Both you and your Clifton divorce attorney will be greatly benefited by having an accurate and complete financial picture of your marital assets and finances. The sooner you can gather the following documents, the better:
Bank Statements for personal and joint accounts
Credit Card statements for you and your spouse
Tax documents, both federal and state, and W-2's for you and your spouse
Statements for any retirement accounts you or your spouse may have
Income documents like pay stubs for the last three months
Appraisals for valuables like jewelry, artwork, antiques, homes, and cars
The more information you can gather, the more complete a picture you can paint for both yourself and your Passaic County divorce attorney. Even if your spouse handled your marital finances previously, after your divorce this responsibility will fall to you, so it is important that you begin learning about the different assets and accounts you may have, and how to manage them.
Create a Budget for your Post-Divorce Finances
Now that you have a better understanding of exactly what assets you have, and how you and your spouse handled all of the various expenses of your marriage, it is important to create a rough budget for your post-divorce finances. How much do you earn, and what will your potential expenses be? Will you be paying child support or spousal support? Will you need to purchase or rent a new residence? Answering these questions, even if you still do not know the exact amount of projected expenses, is important to help you prepare financially for your divorce and post-divorce life.
Manage your Credit Score
It is important that you regularly monitor your credit report during your divorce for several reasons. Firstly, it is good to know what your credit score is so you can plan for upcoming credit checks when purchasing or renting a new home, or other large purchases like a car. Secondly, if you have any reason to distrust your spouse financially, it is important to regularly monitor your credit report during your divorce so that you can be aware of any unusual loans or credit charges on a joint account, and alert your Passaic divorce attorney as quickly as possible to suspect charges.
You will also want to begin building your own personal credit, as credit scores often drop after a divorce. Make purchases you know you can repay on an individual credit card, and make sure all payments are made in full and within the time specified.
Talk to a Financial Planner
While your Passaic divorce attorney is certainly well informed when it comes to advising you how to navigate your divorce legally, they are by no means experts in accounting, taxes, or estate planning. Your Passaic divorce attorney should most likely know financial experts with whom they regularly consult, and should be able to recommend a financial planner they trust to you. While you may have already made a rough financial plan for your post-divorce life, a financial planner will be able to give you a much more comprehensive review and advice when it comes to managing your post-divorce finances.
Contact a Passaic County Divorce Attorney Today
At The Montanari Law Group, we have extensive experience successfully resolving divorces for clients across Clifton, Passaic, Wayne, West Milford, and the greater Passaic County area.
When it comes to divorce, we understand that not only is your financial future at risk, your parental rights and future will also be called into question. We provide compassionate, knowledgeable, and effective legal service and advice for all of our clients, and we are ready to help you secure the property settlement agreement that properly takes into accounts all of your unique needs and concerns when it comes to child custody and visitation, child support, alimony, and division of assets.
To speak with our experienced family law team today in a free and confidential consultation regarding your divorce or any other family issue, please contact us online or through our Little Falls office at 973-233-4396.