Maintaining or Operating a CDS Production Facility Lawyers in Passaic County NJ
If you or someone you know has been charged with maintaining or operating a CDS (Controlled Dangerous Substance) facility, you know that the charges are serious and the consequences even more so. This is not something you want to face alone. Maintaining or operating a drug production facility is considered under New Jersey law a very serious crime that leads to severe penalties. You may be facing charges for a first degree crime, the toughest grade of criminal offense you can be charged with in New Jersey. In fact, if the crime involves a particular quantity of controlled substances or illegal drug activities across state lines, the charges may be pressed at the state or federal level. That is why the help of an experienced criminal defense lawyer becomes paramount. It would help if you had someone with whom you could place your trust and, ultimately, your future. Criminal lawyers are not all the same.
With the experience and knowledge of the attorneys at The Montanari Law Group, you will feel confident that your case is in excellent hands. The criminal defense lawyers our our Passaic County firm will aggressively work to defend your case, utilizing every avenue available to represent you. With over twenty years of experience, Michael J. Montanari and our team of attorneys have assisted numerous clients in defending their rights and finding the top defense approaches to a wide range of drug charges. We have handled a multitude of manufacturing, distribution, and possession with intent charges, as well as the most serious drug crimes under state law, such as strict liability for drug-induced death. In fact, Mr. Montanari successfully achieved the dismissal of first degree charges for strict liability for drug-induced death in a case argued before the New Jersey Supreme Court, State v Ferguson.
If you would like to talk to our team of lawyers for a free confidential consultation, contact our local Little Falls office at 973-233-4396, or you can also reach out to us by completing the online intake form. We represent clients throughout Passaic County, including those charged with CDS production facility offenses in Paterson, Ringwood, Clifton, Woodland Park, Prospect Park, Wayne, and towns throughout Passaic County and Northern New Jersey.
Understanding the Drug Production Facility Offense Enumerated in N.J.S.A. 2C-35-4
Anyone involved in producing illicit drugs or running a CDS facility can be charged with a grave crime under New Jersey Statute 2C:35-4. According to the statute, anyone who maintains a CDS facility and/or operates the same to manufacture prohibited substances such as cocaine, heroin, methamphetamine, and ecstasy, among many others, is acting against the law. Aiding, promoting, or investing in the maintenance of a CDS facility is illegal, as is purchasing, packaging, or shipping dangerous substances. The organizer plans the facility's activities and sets up the trafficking network, while a financier puts up the money to keep the business rolling. The supervisor and operator work together on the day-to-day issues that may surface and disrupt production.
The two basic crimes are maintaining and operating a CDS production premises, or aiding and promoting one. The terms which define these actions are broad, as are the circumstances that can be used to satisfy the necessary elements for proving the charge in court.
Purpose of Manufacturing CDS for Production Facility Offense
The first qualification is that the location was purposed for producing a CDS, and the raw materials and products are found therein. The purpose of manufacturing must be satisfied as a critical element of CDS production facility charges. They include making, mixing, compounding, converting, or processing a CDS by extricating or combining chemical substances to create an illegal drug. Manufacturing can be branding the product, placing it in packages, or breaking it down and repacking it. The definition of manufacture also includes packaging or repackaging, relabeling any controlled dangerous substance, or extracting chemicals from one substance and joining them in another to create a CDS. Any time you package or label a controlled substance, it is manufacturing. Frequently, manufacturers label their product either on the packaging or the material itself for easy recognition by others.
Repeated Use of the Same Premises for Drug Production
Also, there must be evidence of continuity or using the same location more than once. In the Supreme Court case of State v. Kittrell, New Jersey law enforcement asserted that the defendant was not an owner or resident of the dwelling after several months of observation of an apartment. The police secured a search warrant which resulted in finding more than 20 vials of cocaine, several small yellow plastic bags, and 50 small blue bags with cocaine. When the police interviewed the owner of the apartment, he vehemently denied that the drugs belonged to him but to the defendant who purchased the product and "cuts" it in the apartment. Considering that this practice had been repeated, it can be deduced that the defendant maintained the apartment as a place to package the drugs and repackage them for sale, which means the apartment is considered a production facility.
Knowingly Operating, Maintaining, Financing, Aiding, or Promoting
Next, the people participating in the manufacturing did it knowingly, and the defendant financially supported the premises and promoted, or participated in another capacity.  Anyone found operating or maintaining a facility that produces, stores, creates, packages, or manufactures controlled dangerous substances is liable. Everyone from Joe, who rents the house, to Bill, who grows hundreds of marijuana plants in the basement, to those who cook and package drugs such as crack and heroin, can be charged with maintaining or operating a CDS facility. It does not matter if you are part of a group and some jobs are more in-depth than others; if you are there on a repetitive basis, you are considered a part of the continued operations of the drug manufacturing facility. Participants in the operation of a CDS facility are assumed to know that their behavior is illegal, as is the facility in which they work.
Consequences for Maintaining or Operating a CDS Production Facility Crime in New Jersey
Maintaining or operating a controlled dangerous substance production facility can lead to a first degree charge, which is as serious as other crimes such as aggravated sexual assault, armed robbery, and kidnapping. Despite having a clean criminal record, the penalties are still stiff and unchanging. Most of the time, you will be tried in Superior Court in the county where the offense occurred. However, suppose your case is related to drug rings or large organizations. In that case, it may be taken to the federal level, especially if the production occurred on federal property. The state penalty for maintaining or operating a CDS facility is 10 to 20 years of imprisonment and a fine of up to $750,000, or five times the street value of the substances.
Most Common Controlled Dangerous Substances for Drug Manufacturing Facility Charges in NJ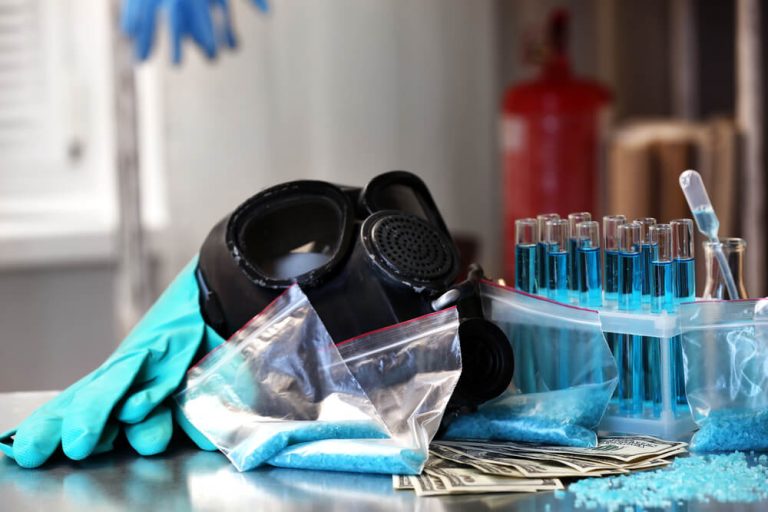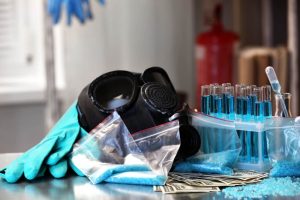 Drugs such as cocaine, methamphetamine, heroin, and ecstasy are some of the most common substances that may be involved in drug production facility cases. Specifically, the most common controlled dangerous substances are more than ten plants or 5 pounds of marijuana, LSD (pill, drops, or paper), heroin, cocaine (rock or powder), PCP (tablets, liquid, powder), ecstasy, and methamphetamine (powder, liquid, crystals). Any other drug in Schedule I or Schedule II may also give rise to charges under N.J.S.A. 2C-35-4.
Several characteristics compose the qualifications of a substance as a CDS. A drug's impact on public health, such as how widespread and addictive it is, or if there is an augmented number of overdoses that indicate it is a dangerous substance. Also, scientific data about its effects or composition and whether a pattern of abuse has been historically documented. Finally, if a similar drug already pertains to the CDS group, that may indicate where a particular drug falls on the Schedule of Controlled Dangerous Substances.
Contact our Wayne NJ Drug Production Facility Defense Attorneys Today
If you or someone you know has been arrested for any involvement in maintaining or operating a CDS production facility in New Jersey, now is the time to act. The seriousness of drug-related crimes of the first degree such as this cannot be overstated. This is the wrong time to choose to represent yourself, as your freedom and your ability to continue your life beyond the walls of a prison cell may depend on.
Numerous points must be proven to convict a defendant charged with violating N.J.S.A. 2C-35-4 beyond a reasonable doubt, so the best thing you can do for yourself is to get a skilled criminal defense lawyer involved urgently.  Our lawyers represent individuals charged with CDS production facility offenses in Haledon, Hawthorne, New Milford, Totowa, and the greater Passaic County area.
Call the law offices of the Montanari Law Group today for your free confidential consultation. Dial 973-233-4396. You can also seek counsel online. We look forward to helping you.