Bicycle Accidents: What to do After a Crash?
Bicycle Accident and Injury Attorneys serving clients in Little Falls, Woodland Park, Wayne, Paterson, and across Passaic County NJ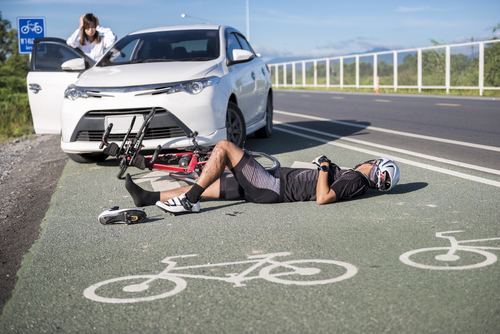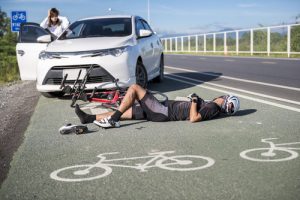 If you are a cyclist, you know that sharing the road with cars can be dangerous.  In many areas, bike lanes do not exist and your journey is relegated to a narrow strip of the shoulder along the dangerous roadway.  Adding to safety concerns are the lack of awareness that motor vehicle operators often have.  Additionally, objects in the roadway, potholes, parked cars, and impermissible items in bike lanes all pose safety risks.  No matter the cause, there are certain things you should do if you have been involved in a bicycle accident.
Call the police
If you are able, the first thing you should do is call the police or ask a person nearby to call the police.  Even if you are not injured or you do not feel injured, it is important to contact the police.  An officer will arrive and take information from everyone involved in the accident, as well as anyone who witnessed it occur. Then, the officer will make a report of the accident.  The report will include the date, time, people involved, contact information, and a description of what is alleged to have occurred. This report will serve as proof that the accident did happen.
Sometimes, people may feel that they are ok and leave without calling the police.  Later, after injuries are discovered, the injured party wants to sue but has no proof that the accident actually happened.  While it is not impossible to sue without a report, it is certainly much easier when an accident report is available.
Before Police Arrive
Before police arrive or after, you can talk to witnesses around you and get their contact information.  Often, the police officer will get the information, but sometimes witnesses may have to leave or are not able to stay and talk to the police.  Ask them for their name, telephone number, and address, and ask what they witnessed.  Provide this information to the police, who may be able to follow up later.
Additionally, you may be able to take pictures using your cell phone.  You can photograph your injuries, your surroundings, the car and bike involved in the accident, and possibly the license plate of any vehicle involved. Give this information to the police as well.
Tell the officer what happened
When the officer arrives, talk to him or her.  Be sure to tell him your version of events and if he misstates it, correct him (politely of course).  Even if you are with emergency responders, you should request to talk to the responding officer if you can.  Often, injuries are unknown or not apparent at the time of the accident and people do not feel the need to talk to the officer.  However, unknown injuries can surface in the future. Providing your version of the events can assist in recovering compensation from a negligent party after the fact.
If you are unable to communicate with the police officer at the time of the accident, you can do it later.  For example, if you are injured and need immediate medical attention, your medical care becomes the most important concern and the report can wait until later.
Tend to your injuries and seek medical treatment
In addition to contacting the police, you should seek medical treatment.  Both the police report and the medical attention given will serve as proof that the accident happened.  Even if you do not believe you are injured, you should speak with a doctor or emergency service provider.  Follow all recommended care that the doctor provides and keep track of how you feel.  Our office will be able to collect these records at a later date.
Preserving evidence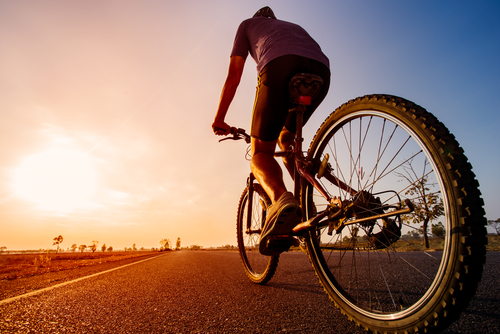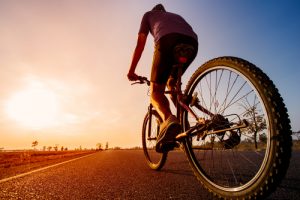 Our memories are best immediately following a traumatic event. As time goes by, our memories fade and our recollection of events becomes foggy.  After you have been in an accident, it is best to write down what you recall happening.  What did you see? Who was there? What were the conditions of the roadway? How did you feel? Did you go to the doctor? Who did you talk to?
In addition to documenting the above, you should preserve evidence in the condition it was in at the time of the accident.  For example, if your bike was twisted and mangled, keep it in that condition and do not have it repaired.  Similarly, take photographs of the incident and injuries and keep them in a secure location.
Contact a Woodland Park Bicycle Accidents Attorney
If you have been involved in a bicycle accident we can help in reviewing your case to determine if you may be entitled to compensation for your injuries. One of our experienced attorneys at The Montanari Law Group will build a lawsuit based on the collected evidence.
The attorney will keep the accident victim apprised of the status of the case and prepare for trial. However, many civil cases are settled and the attorney will negotiate a fair settlement that is satisfactory to the bicyclist. Call 973.233.4396 to receive your cost-free consultation or visit our online form.