What to Do if Your Spouse Doesn't Want a Divorce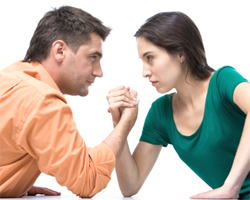 Many clients are unsure of their legal rights in New Jersey when they wish to divorce, but their spouse does not. The good news is that New Jersey is considered a "no-fault" divorce state. This means that either party in a marriage may file for divorce, even if they have no specific grievances or proof of wrong-doing. The only thing you need to prove in order to get a divorce is that you have an "irreconcilable difference" with your spouse, and the fact that you wish to divorce and they don't legally constitute an irreconcilable difference.
Your spouse cannot contest your filing for divorce, but they can contest the terms of your divorce settlement including child custody and parenting time, child support, division of assets, and alimony. This is where having an experienced Passaic County divorce attorney can be of great benefit.
Even if your spouse does not wish to divorce, if you are certain you wish to, here are a few steps to follow:
Consult with an experienced Passaic County divorce lawyer. A good divorce lawyer can help you decide which terms are important to you in your divorce settlement, what outcomes you should realistically expect, and they can help you follow the necessary legal steps in order to properly file for and pursue a New Jersey divorce.
Inform yourself of the many pitfalls and legal snags involved in the divorce process. Speaking with a divorce attorney, county courts, and friends and family who have undergone a similar process can be a great help in understanding and navigating the divorce process.
Once you are ready to officially file for your divorce, you must serve your spouse with legal documents to begin the process. These papers must be delivered to your spouse in-person by either the county sheriff's office or a professional process server. If you do not know the location of your spouse, consult with your divorce attorney on how to properly move forward with the divorce serving process.
Once your spouse has been served, they have thirty-five days to respond to your request for a divorce. They may request a court appearance in order to contest the terms of the divorce, but they cannot contest the divorce itself. If your spouse fails to respond within the limit, you can file for a default divorce. The court will require you to provide certain documentation, again a divorce lawyer can help you here, and after twenty days you will have a court hearing where a judge will grant you a default divorce, and you are now legally single!
As you can see, your spouse cannot contest your desire to divorce in the state of New Jersey. Obviously the decision to divorce is a difficult one, but once made, with experienced family law counsel and by following the proper steps you will be able to get a divorce.
If you are considering a divorce, or are undergoing a divorce and wish to consult with a divorce lawyer, the family law firm of The Montanari Law Group is ready to help. We have extensive experience helping clients get the divorce settlements they deserve. Having assisted clients in Wayne, Little Falls, Woodland Park, and throughout Passaic and Essex counties, we have earned a reputation as skilled and unwavering legal counselors.
With our knowledge and experience, there is no situation for which you will not be prepared during the divorce process. To discuss your case with one of our seasoned New Jersey divorce attorneys, contact us today at 973-233-4396 or toll-free at 888-877-7985 for a free consultation.